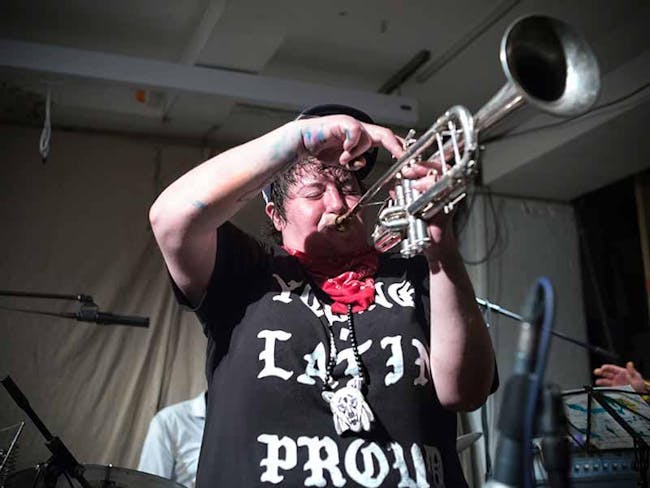 Coastal Jazz & Blues presented with CMHC Granville Island
Jaime Branch
SICK BOSS
Performance Works
Vancouver
,
BC
Limited Number of Standby Tickets at Door
RSVPs are now closed. But don't despair! We anticipate having capacity for a limited number of walk-up tickets (see more information below).
Jaime Branch's Fly or Die II and SICK BOSS at Winter Jazz on Granville Island: RSVPs are now closed for this performance. But don't despair! We anticipate having capacity for a limited number of walk-up tickets (especially for standing room). If you'd like to attend, we recommend arriving by 7:30pm, and please be prepared to wait for a short time in a line-up outside the venue.
FLY or DIE II: bird dogs of paradise is the much-anticipated follow-up to composer, trumpeter, and (now) singer Jaimie Branch's debut Fly or Die, which was dubbed one of the "Best Albums of 2017" by The New York Times, Los Angeles Times, NPR Music, WIRE, Stereogum, Aquarium Drunkard, and more. bird dogs of paradise is the result of a never-satisfied Branch pushing her distinct style of progressive composition to new heights — while also stepping forward as a vocalist for the first time. Her unflinching, unhinged mix of anger and humour, plus searing trumpet piled atop massive down-tuned blues creates a a sound that's unequivocally her own. Conjuring up moments of real reckoning—hopefulness, hopelessness, danger, and joy—Branch dares you to feel again, or as she says, "now sound the trumpets and get ready to roll."
With Jason Ajemian acoustic bass/electronics, Lester St Louis cello, and Chad Taylor drums. Made possible with the financial support of Granville Island.
In its sinuous melodies and complex rhythms, SICK BOSS immediately calls to mind composer Cole Schmidt's work in award-winning outfit Pugs & Crows. Drawing from creative improvisation, folk, and Jimi Hendrix, SICK BOSS' sweeping, cerebral originals are taken to unexpected places by Vancouver sonic all-stars Peggy Lee cello, Josh Zubot violin, James Meger bass, Dan Gaucher drums, and Cole Schmidt guitar.
Made possible with the financial support of CMHC Granville Island (logo)
Register and arrive by 7:30pm to guarantee admittance; Plus your Registration and attendance enters you to win a pair of tickets to Hiromi June 23! (During the TD Vancouver International Jazz Festival).
Patrons who Register will be admitted into the house first, by about 7:30pm. Arrive early to get your spot in line! Seating is limited and not guaranteed. All Winter Jazz shows are free community events and we want everyone to have access. We will give priority, when we can, to people who Register, but if we reach capacity there will be a wait list started at the door.
*******
Details:
This event is free to the public and no registration, ticket or donation is necessary. Admittance is general admission and subject to availability; seating is not guaranteed
If you have any special requests that require a seat, please contact our box office so we can make arrangements to accommodate your needs!
Show is approx 2.5 hours with intermission
8pm SICK BOSS and / 9:20pm Jaimie Branch's Fly or Die II: bird dogs of Paradise
Cash bar on site, ATM located in the Granville Island Hotel lobby.
We look forward to seeing you there!

Coastal Jazz

604.872.5200 x5 | boxoffice@coastaljazz.ca

Venue Information:
Performance Works
1218 Cartwright
Vancouver, BC, V6H 3R8